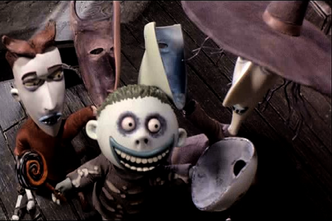 Lock Shock & Barrel
are the secondary villains in "Tim Burton's The Nightmare Before Christmas." They are three evil little trick-or-treat themed ghouls
notable for being malicious pranksters as well as the henchmen to Oogie Boogie - although unlike Oogie Boogie the three roamed quite freely around Halloween Town, though were definitely some of the more openly wicked of its residents.
Lock wears a devil-mask, Shock resembles a witch and Barrel has a skeleton-mask - these serve to make the three villains rather memorable along with their famous song "Kidnap the Sandy Claws", in which they describe in gruesome detail their plans to kidnap Santa Claus and bring him to Oogie Boogie.
Jack Skellington, the main hero of the movie, actually hired Lock, Shock, and Barrel to kidnap Santa Claus so he could take over Christmas but he was unaware of how much chaos this would ultimately cause and helped rescue Santa when things got out of hand.